I haven't run in over 7 weeks. I ran the half and haven't run since. Yup. It sucks. Being injured sucks. And I have another few running-free weeks to go. Great. Okay I'm going to stop because I sound very whiney and I have so much to be thankful for and overall I am a very healthy and lucky girl.
I've been doing a lot of thinking and questioned my training leading up to the half: did I run too much? Did I increase my mileage too quickly? Did I rest enough? Did I cross-train properly?
I really don't have concrete answers to any of those questions; my thoughts are all over the place. I'm a newbie runner but I love it and I miss it. I caught the running bug and it's addicting. Maybe I overdid it. Maybe. But like Timone says, you gotta put your past behind ya.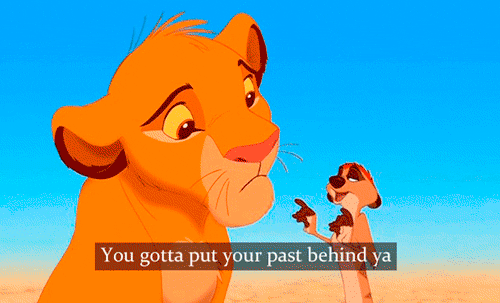 So it's behind me. We live and we learn. Now that I'm not running, for now, I am embracing cross-training. Which is okay. I don't plan on running another half until May so once this silly knee injury goes away I should have plenty of time to train and hit the pavement.
At first, it was hard to embrace other forms of exercise. I just wanted to run but my body (and doctor) told me that was not a good idea. So I listened. I've been doing lots of yoga, I got into spinning, incorporated some strength training and started to box again. I've touched on all of these things in previous posts but thought it might be helpful to expand a bit.
Spinning – I was very skeptical at first. I don't like bikes. I never have. I didn't like riding them as a kid because the helmet "messed up my hair." Fact. But I wanted to feel the burn so my doctor suggested I try some spinning classes. Feel the burn I did. It's a great sweat yet a different kind of workout than running. Your legs definitely get a killer workout but without the pounding. I often close my eyes to pretend that I am by myself. In talking with one of the instructors, she claimed that spinning is the "injury free workout." I'm sure you can pull muscles but she is definitely close on that one.
Yoga – When I was running, I was doing yoga once or twice a week. Now I aim for three times a week. I vary the intensity of the classes I go to — from Moksha to Vinyassa 1 to Vinyassa 3. I consider Moksha to be active rest while the Vinyassa classes are much more challenging for me. Hot yoga in the winter is amazing — it actually makes me stay in shavasna to stay in the warmth. I love yoga and I think it is beneficial for nearly every sport.
Boxing – Boxing was my first workout love. When I moved back to Toronto, I fell out of touch with it (mainly because I didn't find a great gym) but over the past couple of weeks I've been going to a class here, a class there. From jumping rope, to hitting the heavy bags, to partner pad-work, to weights and push-ups… it's a really well-rounded workout that doesn't even feel like a workout because you're just punching out all your aggression.
Strength training – Before hurting my knee, Crossfit was my main method of strength training. Since I am not cleared for Crossfit either I have been taking some lower intensity strength training classes that I have been liking a lot. The classes are circuit-style using 8-15 pound weights or kettle-bells. Come on biceps, get toned…
Apparently I wear my maroon pants often…
I've learned how important cross-training is for runners. You would have thought I might have known this given that I cross-trained for basketball: in the weight room, on the track and in the boxing ring. The idea with cross-training is to improve your fitness and prevent injury [source] by changing things up and doing activities other than your main sport.
My goal when I start running and training for my next half is to focus more on cross-training. I want to keep spinning, strength training and continue to add more variety to my workouts. I love learning from you guys so if you'd like to share your thoughts and experience, I'd be so glad :) Have a wonderful day!
P.S. If you missed this post from Cori last week, this is a great read: Lessons Learned From A Running Injury
Questions of the day…
Are you training for something right now?
How do you incorporate cross-training into your workout regimen?